Since 2009, Petrolimex Saigon has started to implement and be certified in accordance with the ISO international standards on safety, occupational health and environment of ISO 14001 and ISO 45001 and integrated into the quality management system ISO 9001. Over the years, the Company has continuously maintained and upgraded policies to keep safety, ensure the health of employees, partners, customers, visitors, and protect environment to be greener, cleaner and more friendly.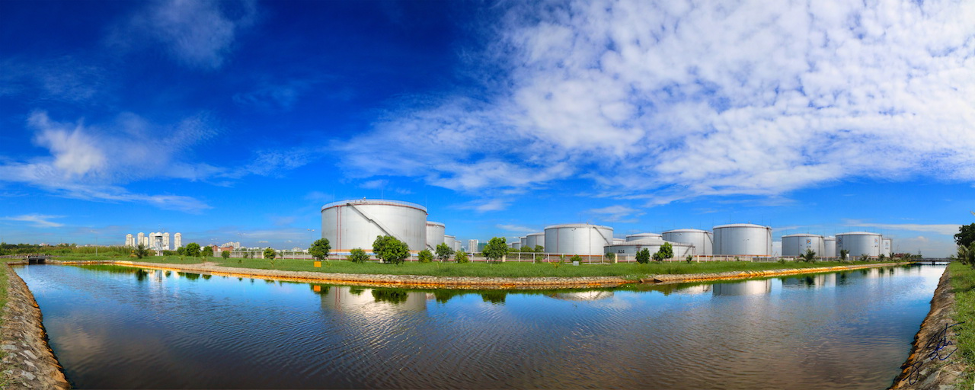 A corner of Nha Be Oil Terminal…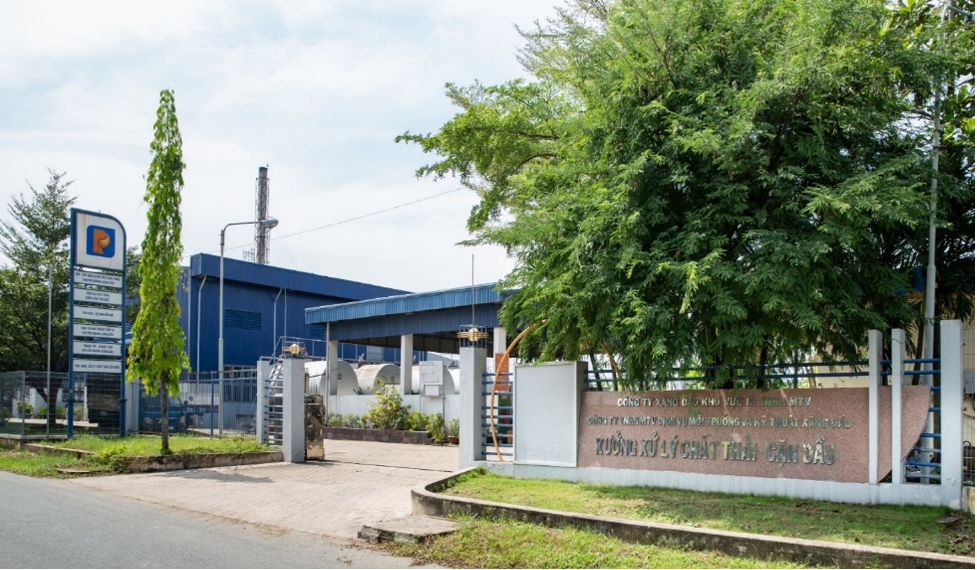 … and Hazadous Waste Treatment Workshop
Petrolimex Saigon always focuses on improving the effectiveness of the management system by setting annual safety, health and environmental goals and targets; regularly improves processes, regulations and work instructions to ensure full compliance with legal requirements and standards; maintains a full range of management reviews and internal audits to look for opportunities to improve the system.
Nha Be Oil Terminal (affiliated unit of Petrolimex Saigon) maintains and continuously improves risk identification and assessment, provides personal protection equipments (PPE), toxic fostering and periodic health checks for employees; organizes safety and hygiene teams to actively search for "near-miss" incidents; regularly organizes training activities and practices to respond to emergencies such as oil spills, labor accidents or fire fightings…
In addition, Petrolimex Saigon has Hazadous Waste Treatment Workshop which is licensed to operate by the Ministry of Natural Resources and Environment and specializing in treating oil-contaminated waste and other hazardous wastes within the industry. Therefore, environmental protection activities at the Workshop are paid special attention to comply with legal regulations and standards.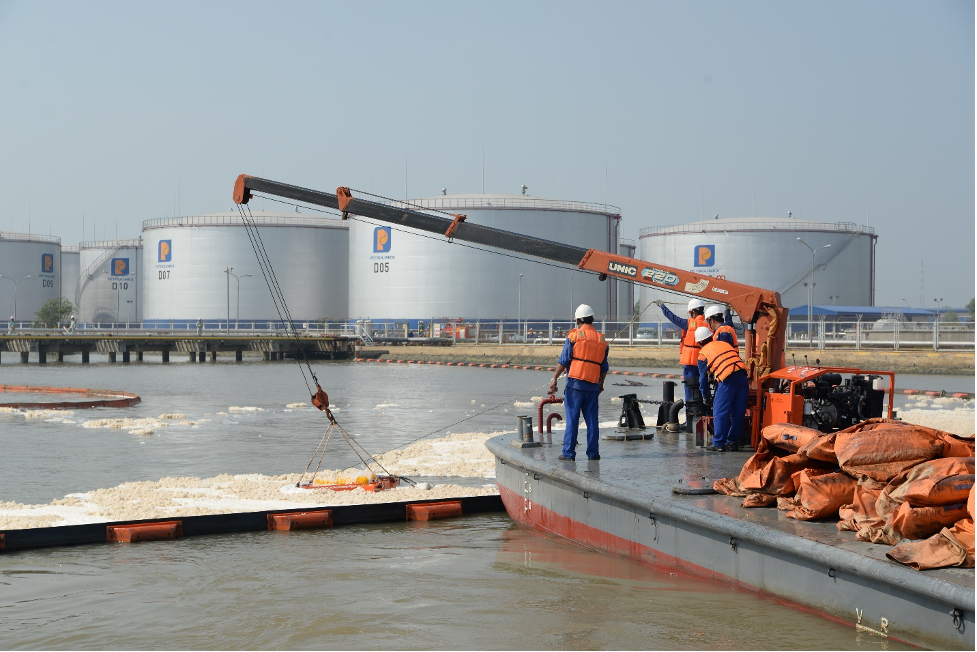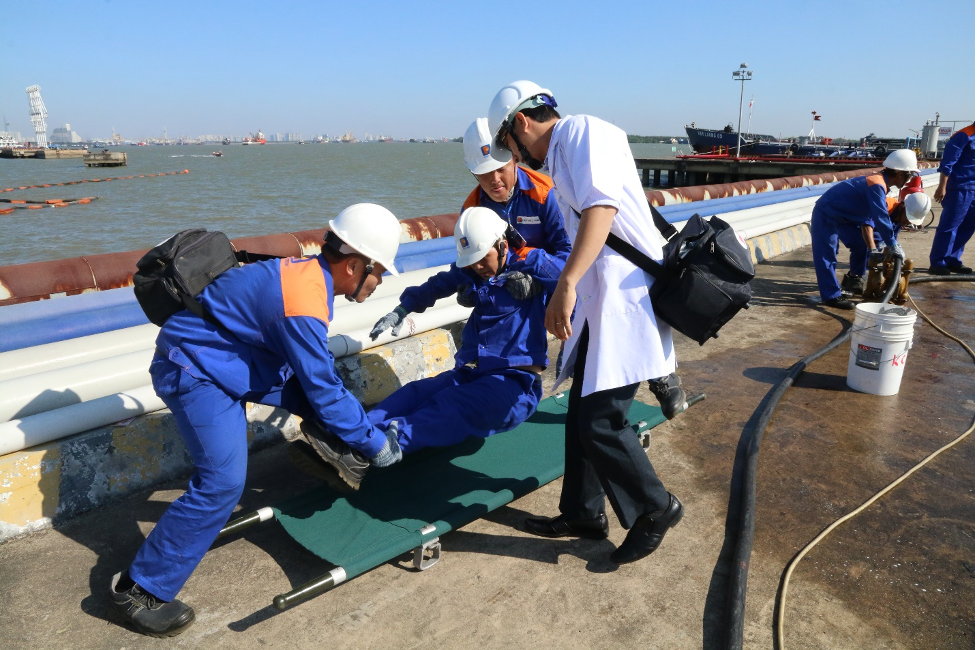 Organize periodic pratices to respond to emergencies such as oil spills and provide first aid to accident victims
In addition to management activities, Petrolimex Saigon is keen on investing to improve facilities to help protect workers' health and committed to sustainable environmental protection. For employees, the Company learns to provide the best, modern and safest labor protection, especially for direct workers. Investment initiatives and improvements such as closed fuel export system, gas vapor recovery, grounding system, anti-static tank truck or seat belts working at height are all bring about safety effects for workers.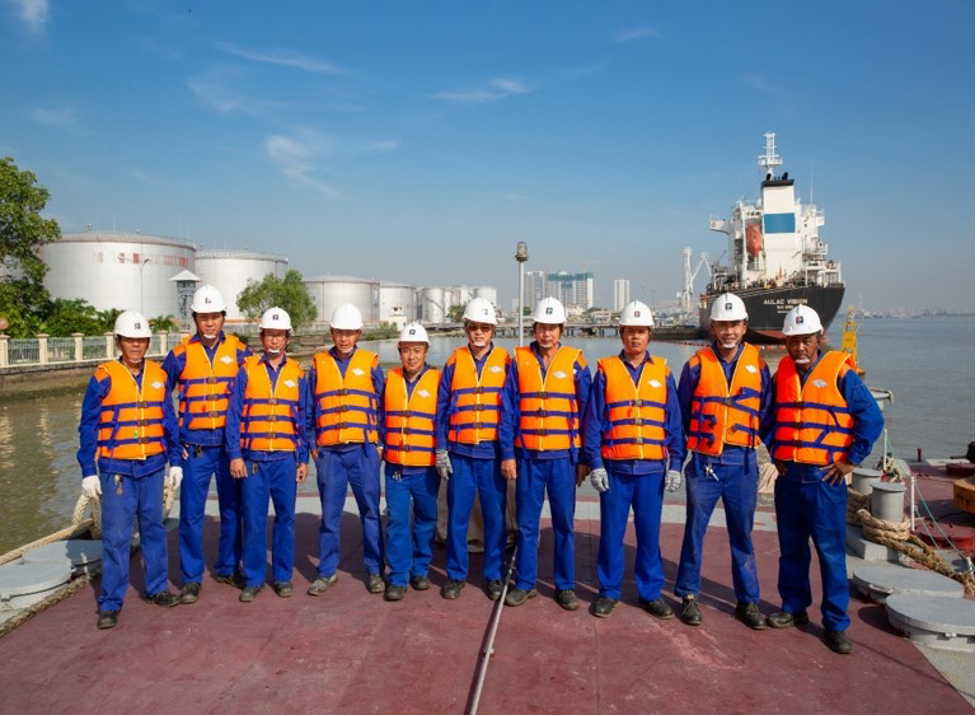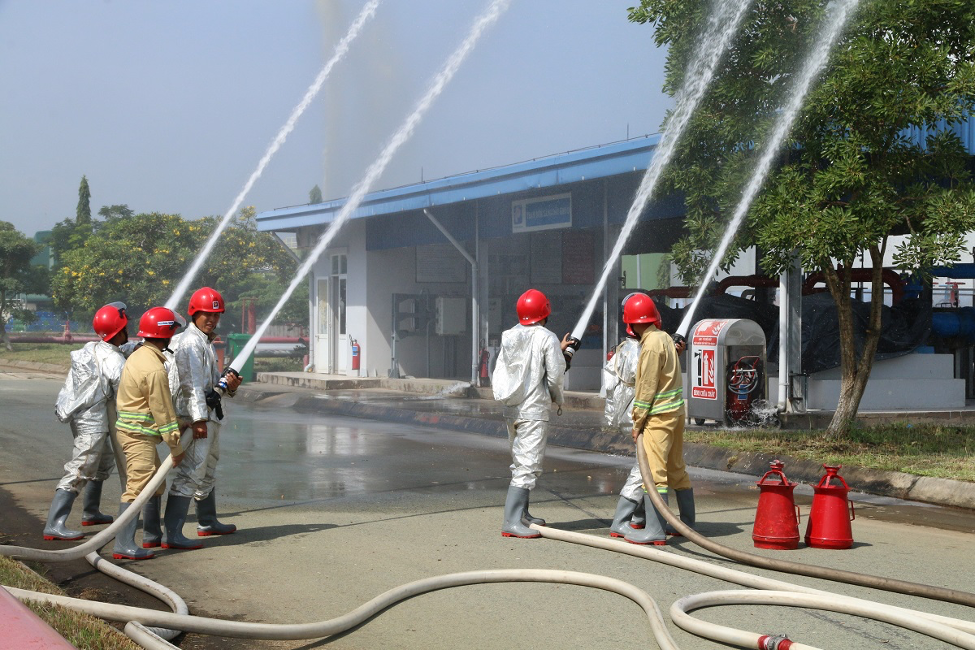 Employees are fully equipped with PPE according to job characteristics
For its commitment to environmental protection, Petrolimex Saigon has synchronously invested in a modern oil-contaminated wastewater treatment system and hazardous waste treatment workshop; annually evaluates and fully equips forces, vehicles and equipment for oil spill response activities on river and on land; improves the petroleum storage yard floors to be greener, cleaner, and safer.
Green, clean and safer petroleum storage yard floor after renovation
In the 2021 review, in addition to re-certification for the activity "importing, exporting and storing petroleum", Petrolimex Saigon also converted the certification for the activity "collecting, transporting and treating hazardous waste" of Hazardous waste treatment Workshop. The system is certified by Bureau Veritas Certification (BVC) accredited by The United Kingdom Accreditation Service (UKAS).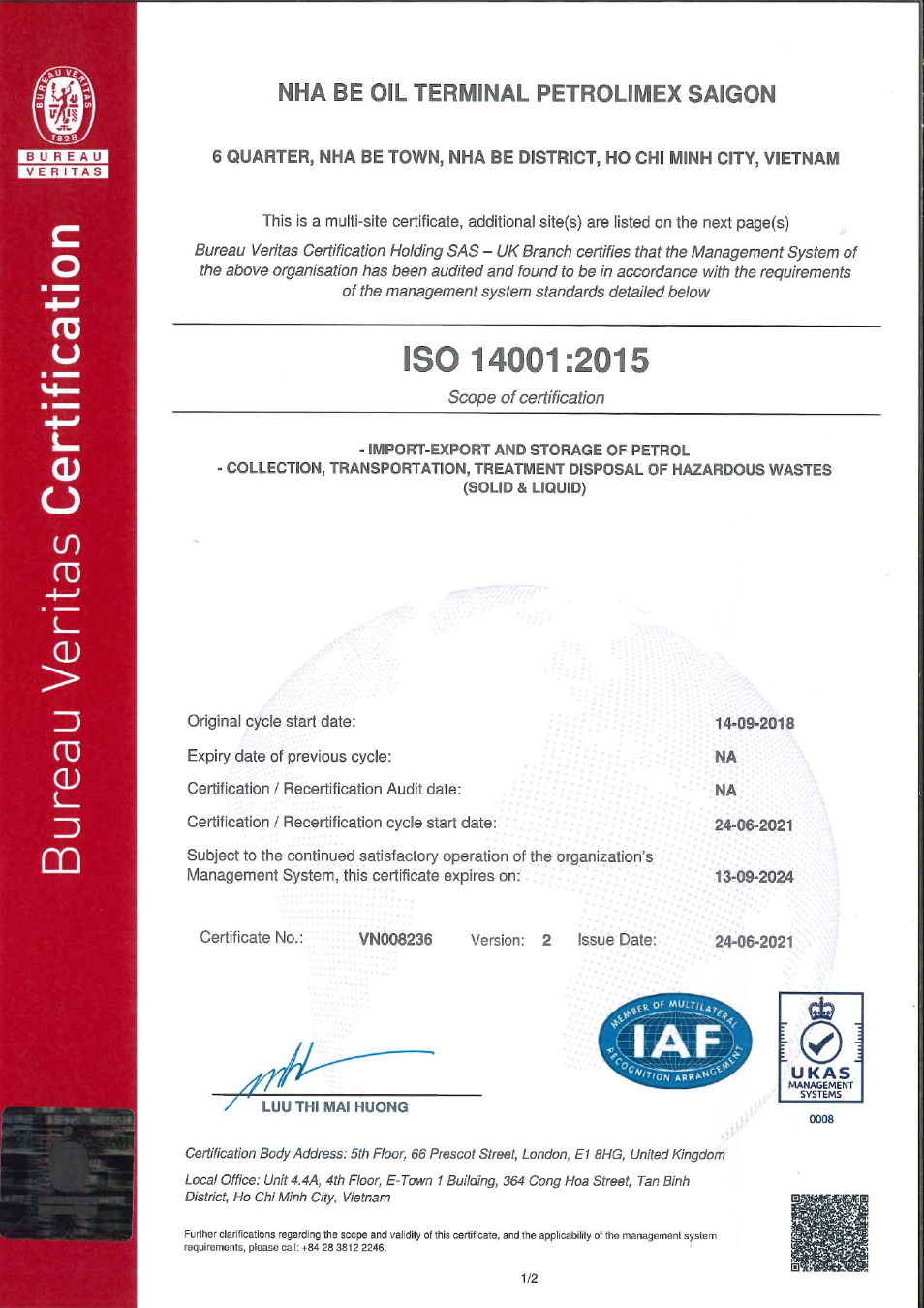 ISO 14001:2015 Certification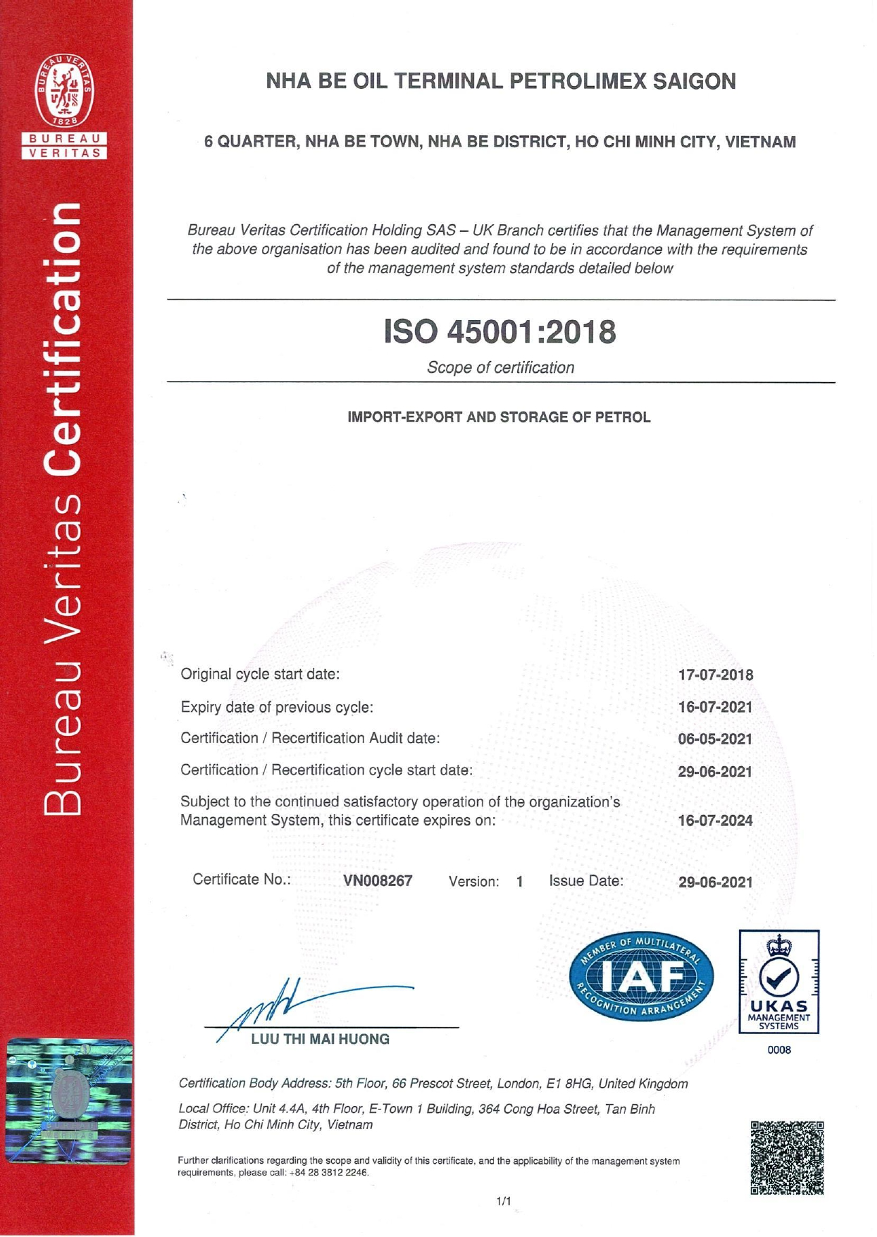 ISO 45001:2018 Certification
Thus, up to now, Petrolimex Saigon keeps policies commitment on safety, health and environmental management system for petroleum import, export and storage activities of Nha Be Oil Terminal and collection, transportation and treatment of hazardous waste of Hazardous Waste Treatment Workshop to meet international standards ISO 14001: 2015 and ISO 45001: 2018.
The Safety, Health and Environment System (also known as HSE, EHS or SHE) is a system that works for the health and safety of workers and the community, for the sustainable development of environment, ensure compliance with legal requirements as well as protect the brand reputation of the business. Petrolimex Saigon has just been re-certified for its SHE system according to international standards ISO 14001:2015 and ISO 45001:2018 in June 2021.
Source: Petrolimex Saigon