From November 19, 2021, Petrolimex Group implemented a lucky draw program with many valuable gifts for customers who buy petrol and accumulate points with their Petrolimex ID accounts.
Noted that on the first day of program implementation, consumers in Ho Chi Minh City were satisfied when experiencing Petrolimex's cashless payment service and participating in accumulating reward points.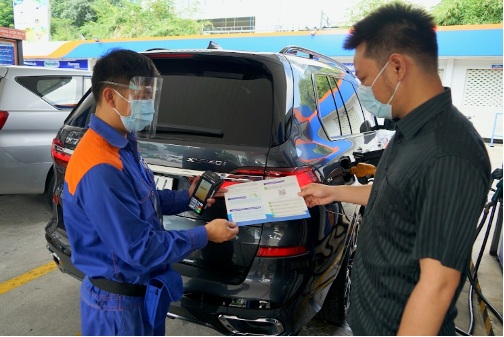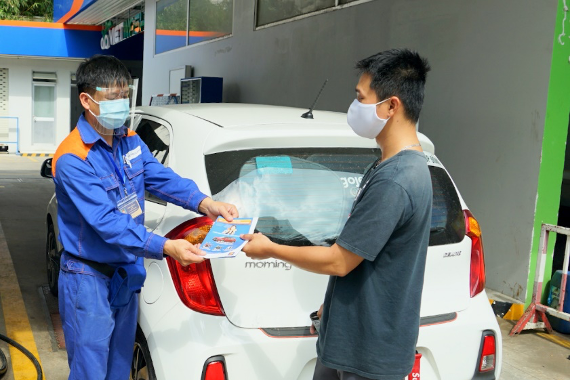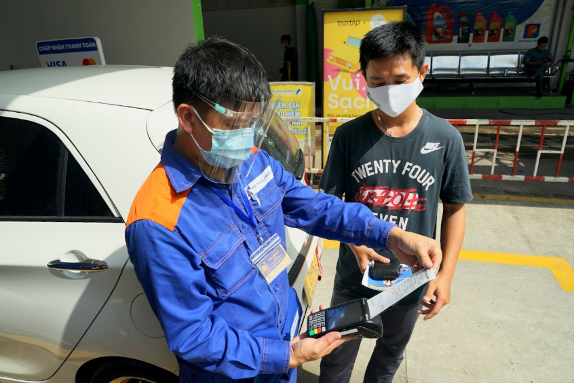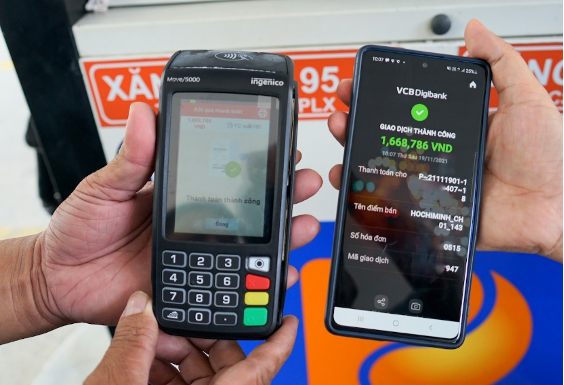 Customers paid cashless at Petrolimex petrol stores and participated in accumulating reward points with Petrolimex ID accounts
Promoting non-cash payments under the direction of the Government, Petrolimex has officially launched a nationwide cashless payment service with the message "Smart payment - Companion benefits" from the day November 19, 2021.
Accordingly, the system of petrol stores belonging to Petrolimex accepts modern forms of payment including international cards (Visa, MasterCard); Domestic bank cards belonging to Napas system and Petrolimex - HDBank co-branded cards. In addition, customers can also use e-wallets to pay via QR code in VNPay alliance.
Petrolimex has carefully selected technological infrastructure, modern solutions - suitable for the payment system to operate accurately, safely and quickly; The payment steps are simplified, creating a sense of convenience, with just a few clicks, the customer can complete the payment and receive the purchase invoice.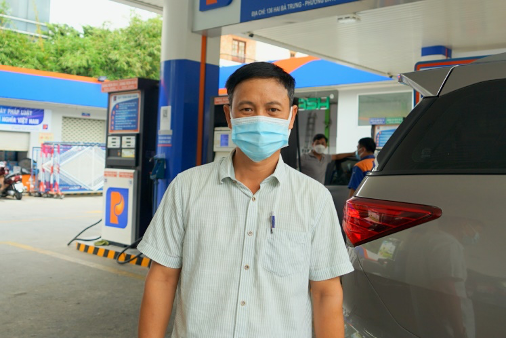 Mr. Vu (left photo), a customer of Store No. 01 Petrolimex Saigon said: "As a long-time customer of Petrolimex, earning bonus points every time I buy petrol brings practical benefits"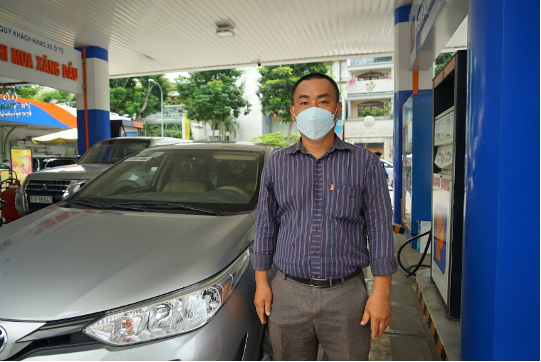 "I knew about this program through the introductory banner at the Store and also installed the Petrolimex app to accumulate points. Today, having experienced the new payment method, I find it very quick and convenient. The staff is very skilled and gives good advice to customers" – Mr. Hau (right photo), a customer of Store No. 01 Petrolimex Saigon said.
The official application of cashless payment solutions to Petrolimex's petrol store system nationwide is part of the Group's strategy to become a leading enterprise in digital transformation, based on smart public platforms, safe and innovative technology with the goal of optimizing service quality.
In addition, the non-cash payment service also brings experiences with more benefits to customers such as receiving information, accumulating points, participating in Petrolimex's lucky draw programs...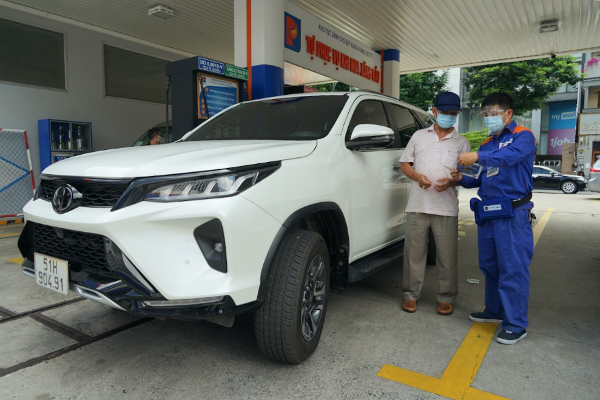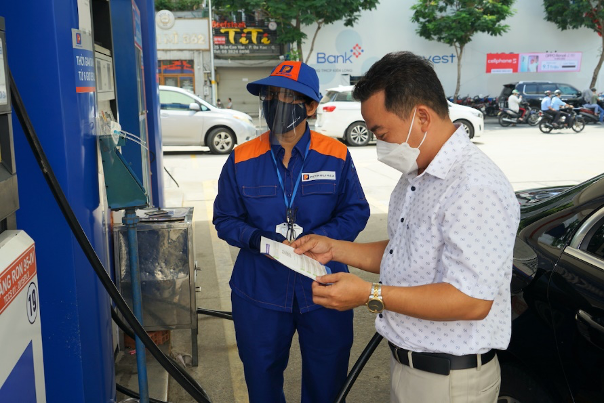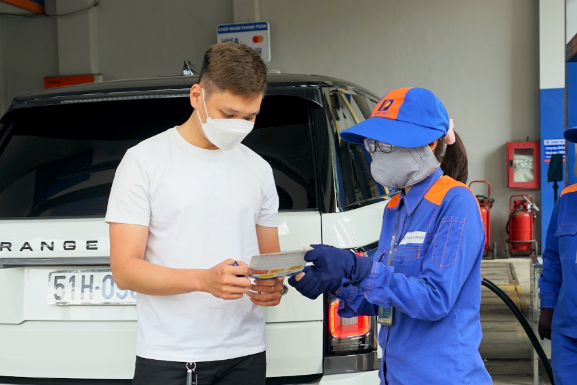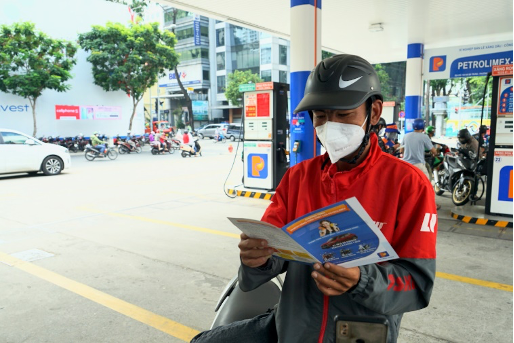 Sales staff advise on non-cash payment service and promotion program to accumulate points with Petrolimex ID account for customers who come to buy petrol.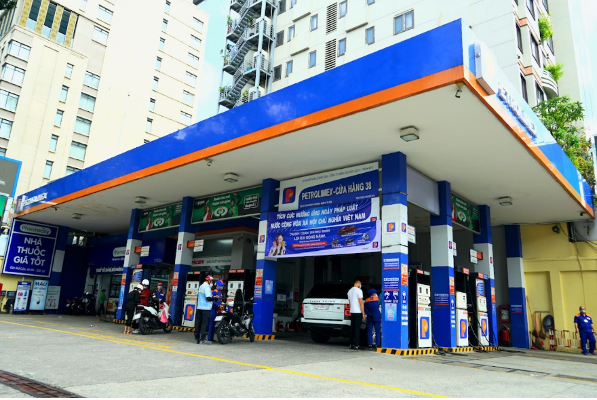 Petrolimex Saigon petrol store hangs a banner to introduce the promotion program "Smart payment, companion benefits"
To register for a Petrolimex ID account, customers only need to scan the QR code right on the flyers or at the store; Access the portal: https://plxid.petrolimex.com.vn or download the application "Petrolimex" on smartphones from the App Store (for iOS operating system) and Google Play (for Android operating system).
Each Petrolimex ID account that is validated for the first time and transacts at Petrolimex's petrol stores from 0:00 on November 19, 2021 to the end of March 31, 2022 will be given 01 bonus code to participate in the lucky draw.
The prize structure includes: 01 special prize - Toyota Corolla Cross 1.8HV Automobile; 02 first prizes - Honda SH Mode 2021 CBS Motorcycle; 10 second prizes - High-end Honda Vision Motorbike; 100 third prize - Honda Wave Alpha 110CC Motorbike.
Previously, from October 15, 2021, Petrolimex opened the Petrolimex ID loyalty system for customers to experience, evaluate and initially accumulate points into their accounts. Accumulated points are converted to receive petrol and oil at all petrol stations of Petrolimex. Bonus points are calculated according to the principle that 1 cumulative point is equivalent to 1 VND.
Specifically, when customers buy petrol and pay non-cash, buy 10,000 VND and accumulate 50 points, equivalent to 50 VND. The more points accumulated, the greater the conversion value.
The bonus points accumulated in the Petrolimex ID account can be redeemed at any time in the store system of Petrolimex but not later than March 31 of the following year. Particularly, the points accumulated by customers in 2021 will be used until March 31, 2023.