On the afternoon of January 7, Ho Chi Minh City held a ceremony to grace Typical Enterprises of 2021 for contribution and companionship of businesses to the City in past year. Petrolimex Saigon was honored to be one of 14 enterprises honored at the ceremony.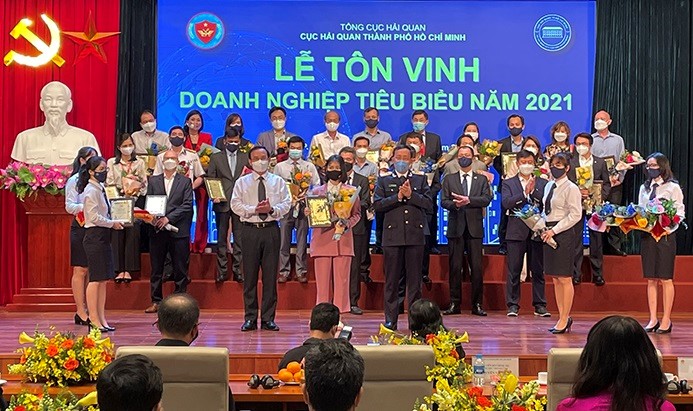 Comrade Nguyen Van Nen, Politburo member, Secretary of the Ho Chi Minh City Party Committee attended the honoring ceremony
2021 is the 6th year consecutive that Ho Chi Minh City Customs Department implements the plan: "Business community and Ho Chi Minh City Customs Department are reliable partners, accompanying development" to promote innovation, apply advanced science and technology, and take advantage of the fourth industrial revolution to effectively carry out tasks and solutions to improve the investment and business environment and enhance enterprise competitiveness.
Despite being heavily affected by the Covid-19 pandemic, businesses have made great efforts to overcome difficulties, maintain production, and actively contribute to the State budget. Last year, Ho Chi Minh City Customs collected VND 118,473 billion from the State budget, exceeding 9.7% of the estimate, exceeding 7.7% of the target, an increase of VND 11,532 billion (increase 11.6%) compared to the same period in 2020.
At the conference, Director of Ho Chi Minh City Customs Department Dinh Ngoc Thang highly appreciated the active cooperation of business associations and especially the business community with customs authorities in recent years. This cooperation has created conditions for the customs sector to successfully complete assigned political tasks, gradually improve mechanisms and policies, and modernize customs in terms of procedures and policies. At the same time, promoting the relationship and companionship between the business community and customs authorities to develop.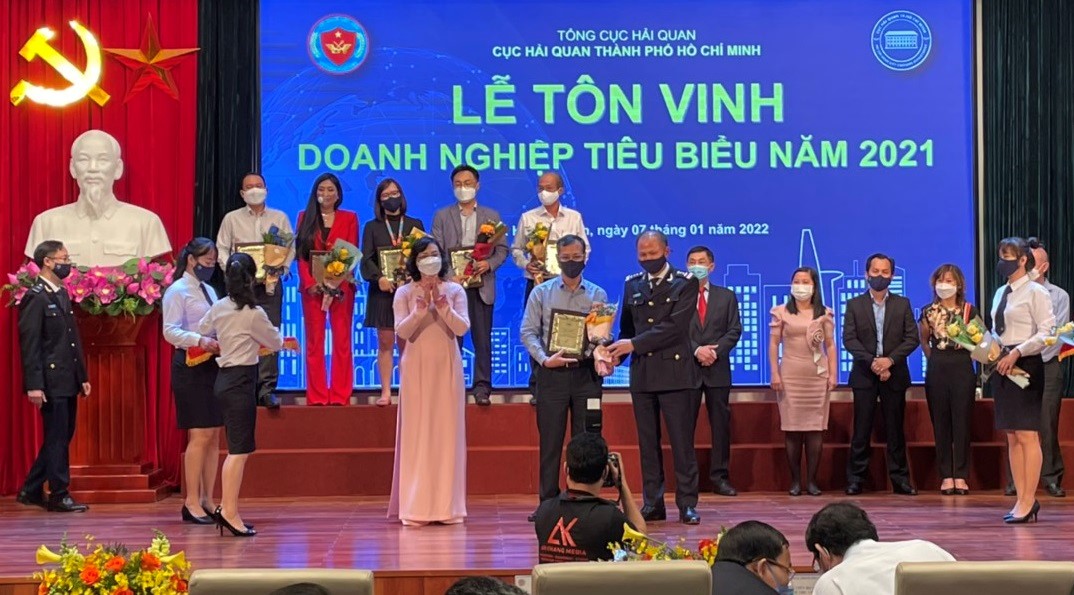 Mr. Dinh Ngoc Thang - Director of Ho Chi Minh City Customs Department presented the logo honoring Petrolimex Saigon as an "excellent - typical enterprise in 2021" to Mr. Dao Van Hung - Deputy Director of Petrolimex Saigon
Mr. Dinh Ngoc Thang committed, the City Customs Department will actively support to facilitate the business community to obey law, strengthen reform of administrative procedures, modernize customs, strive to reduce customs clearance time for export and import goods. In addition, resolutely deal with bureaucratic acts and corporate harassment among civil servants of the City Customs Department; Strengthen management, fight commercial fraud, create an equal competitive environment among businesses; Continue to exchange with enterprises to remove difficulties and problems; Carrying out the dual task of preventing the epidemic and ensuring favorable conditions for import and export enterprises; Correctly and fully collect the assigned State budget in 2022.