On December 30, 2021, at Headquarters 15 Le Duan District 1, Petrolimex Saigon successfully held Conference to summarize production and business activities in 2021 and Conference of Employees' delegates. Due to unpredicted development of COVID-19 epidemic, the conference was held under strict distancing conditions.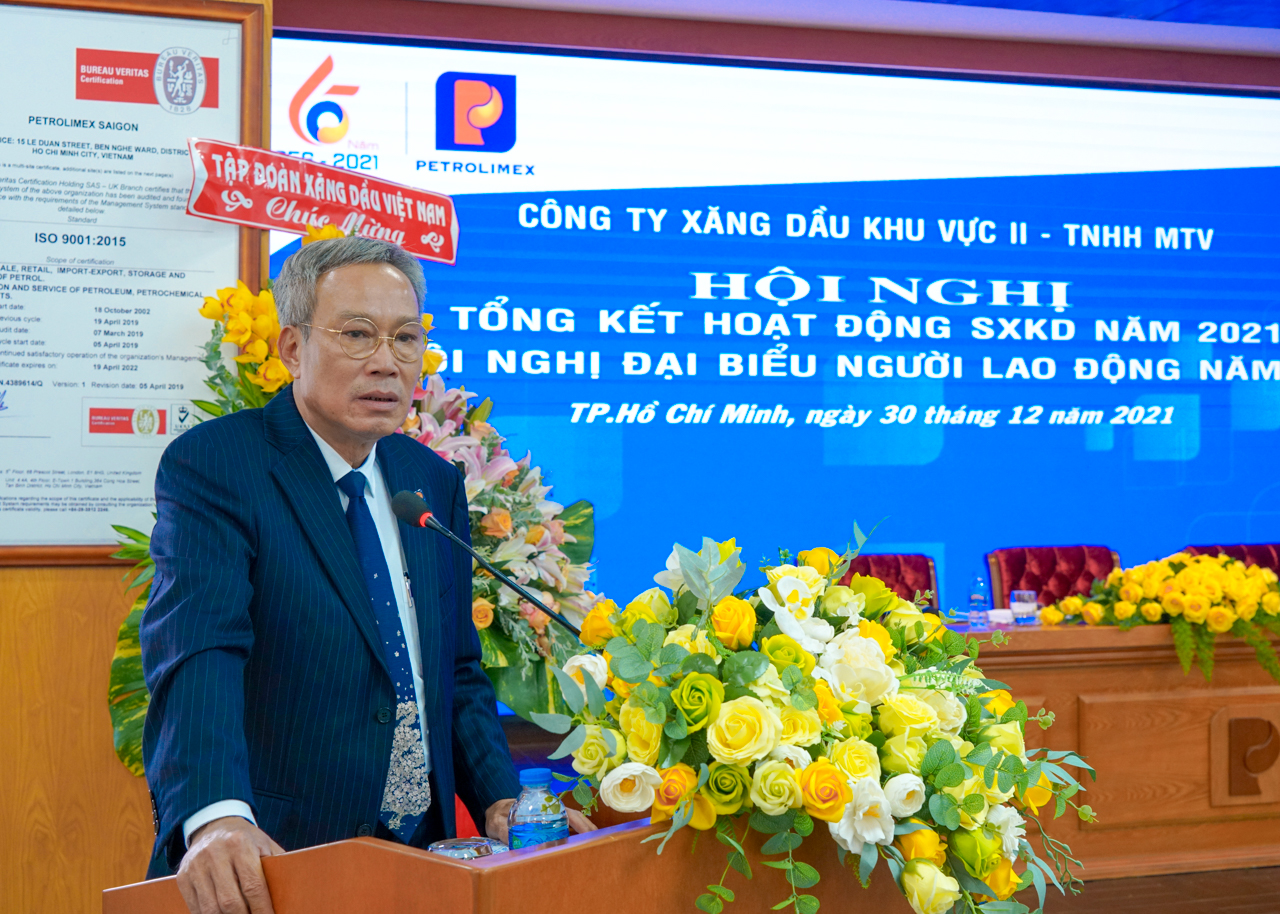 Petrolimex Saigon President Nguyen Van Canh delivered a keynote speech
The Presidium organized and administered Conference
Attending and directing the Conference, there were leaders of Party Committee of Grassroots Division - Ministry of Industry and Trade in Ho Chi Minh City, Department of Industry and Trade of Ho Chi Minh City. On the side of Petrolimex Saigon, there were President Nguyen Van Canh, Director Vo Van Tan, Deputy Director - Chairman of Trade Union Nguyen Danh Hung, Board of Directors, Heads/Deputies of departments, divisions, centers, affiliated units, PKC Company, KTC Company and 141 delegates represent more than 1,700 employees.
In the first months of 2021, countries gradually opened their economies, crude oil prices tended to increase, and State management agencies strengthened control in the petroleum sector, which had a positive impact on business output. However, from the end of April, the COVID-19 pandemic broke out again, seriously affecting the socio-economic of the country in general and Petrolimex Saigon in particular.
Specifically, the results in 2021: Total import and export output is more than 5.2 million m3/ton of petrol - reaching 91% of the plan; Total direct sales volume reached 82% of the plan; Sales of services and other goods reached 96% of the plan; Total revenue reached 107% of the plan.
Ensured security and safety in all aspects of production and business activities, especially during COVID-19 epidemic period, completed 2 vaccinations for employees very early. During the lockdown, 100% of office staff worked from home, direct workforce did "3 onsite". With good logistics organization and Automation and Digitalization technology-ready background has been invested and prepared for many years, Petrolimex Saigon has performed well in corporate governance and administration to overcome difficulties.
The quality of petroleum was strictly controlled and met requirements in import and export process at Nha Be Oil Terminal and distribution system. The chemistry laboratory has been upgraded to Petroleum Laboratry Center to ensure the operation and quality control of petroleum on a larger scale.
From December 14, 2021, the Company is pioneer of Petrolimex to deploy RON 95 - V gasoline business and other projects such as: Non-cash payment, Digital signature with eOffice, SMO software improvement, Cargo dispatch portal mobile application,...
Petrolimex Saigon has actively supported COVID-19 prevention funds of Ho Chi Minh city, Nha Be district, Kien Giang province; supported epidemic prevention at Cho Ray Hospital, Thong Nhat Hospital and District 1 Hospital; sponsored medical gas system for Tropical Hospital and Hospital for COVID-19 treatment in Ho Chi Minh City. The Company also gave 50 tons of rice to support poor households with 07 billion VND total cost.
The year 2022 is forecasted to continue to be a year full of difficulties and challenges when the world and domestic economies recover slowly. The COVID-19 epidemic can be complicated and dangerous with emergence of new variants. However, with experience, capacity and ability to cope with epidemics, the solidarity of efforts, improvement and working philosophy "For the business - With honor - With all responsibility" of each employee, Petrolimex Saigon will strive to best fulfill the assigned targets and plans, enhance brand's position in the market.
Petrolimex Saigon Director Vo Van Tan asked all employees to continue to be proactive and ready to prevent COVID-19 epidemic, ensure safety of all operations, strictly control quality - quantity of goods, ensure the supply of goods when economy returns to normal, implement periodic customer care policies…
Some other information and pictures at the Conference:
Secretary of the Party Committee of Grassroots Division - Ministry of Industry and Trade in Ho Chi Minh City Tran Xuan Dien praised the Company business results
Deputy Director of Ho Chi Minh City Department of Industry and Trade Nguyen Nguyen Phuong highly appreciated efforts in production and business in 2021 and Company's contributions during the outbreak of pandemic.
Mr. Nguyen Nguyen Phuong (left cover) and Mr. Tran Xuan Dien (right cover) awarded certificates of merit from the Committee for Management of State Capital at Enterprises to individuals with outstanding achievements in 2019 - 2020. Welcoming: Petrolimex Saigon President Nguyen Van Canh (right) and Chief of Office Luong Viet Kien (left)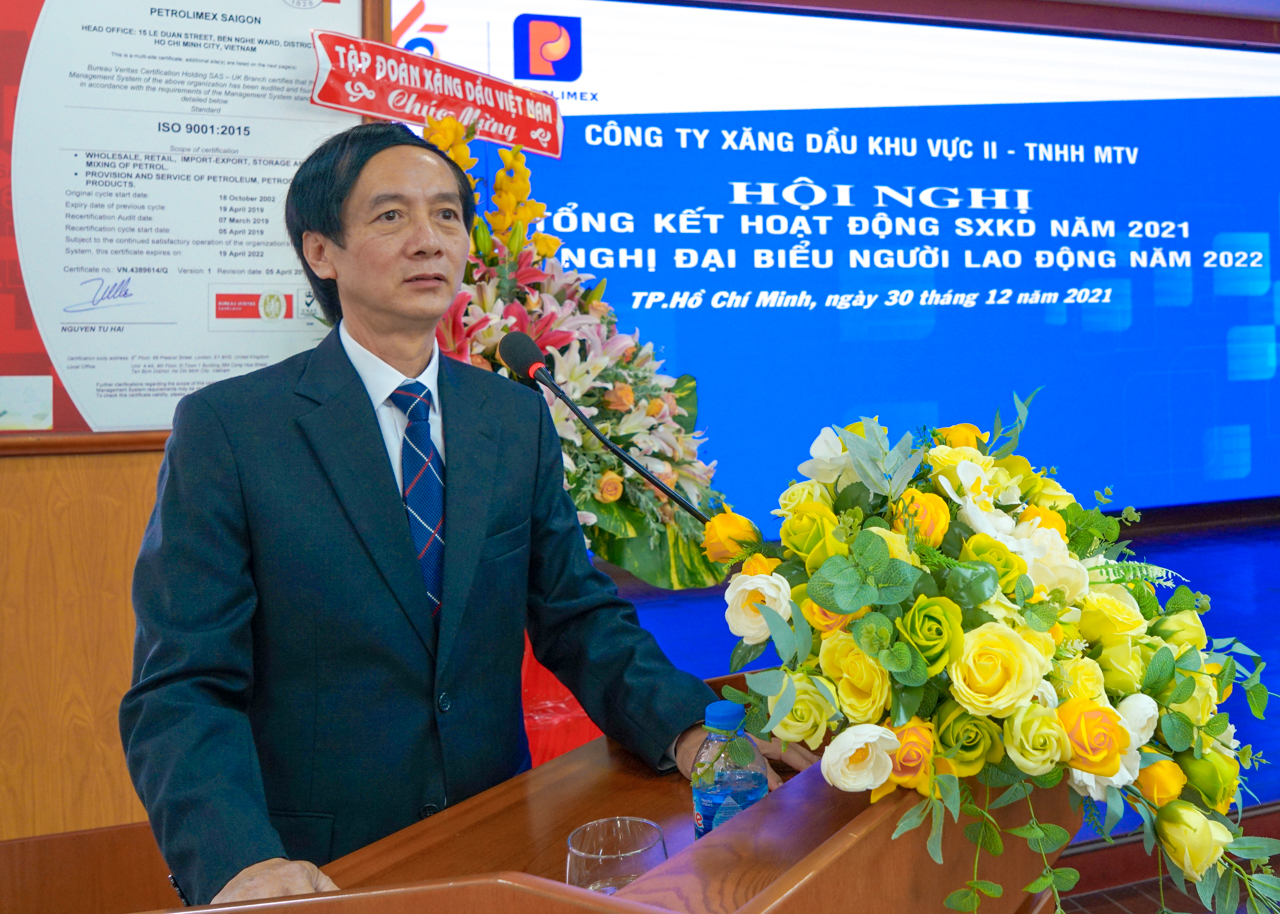 Deputy Director - Chairman of Petrolimex Saigon Trade Union Nguyen Danh Hung reported on the implementation of Collective Labor Agreement and Resolution of Employee Conference in 2021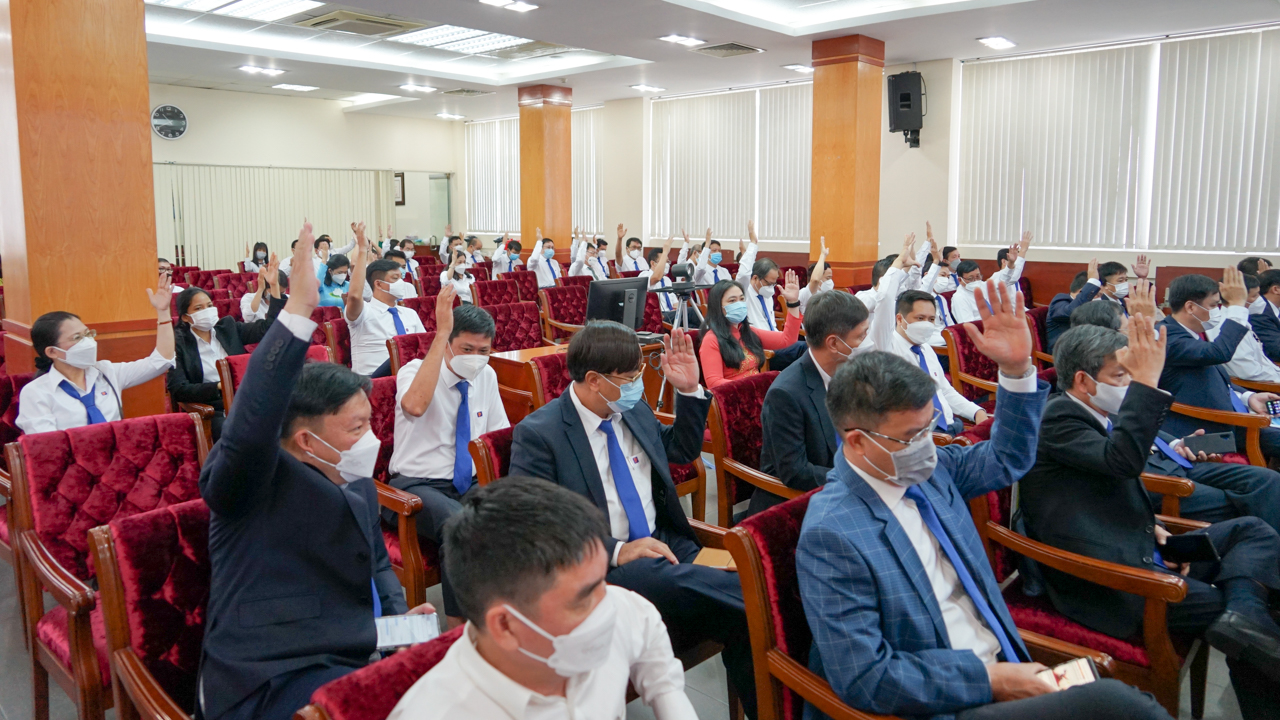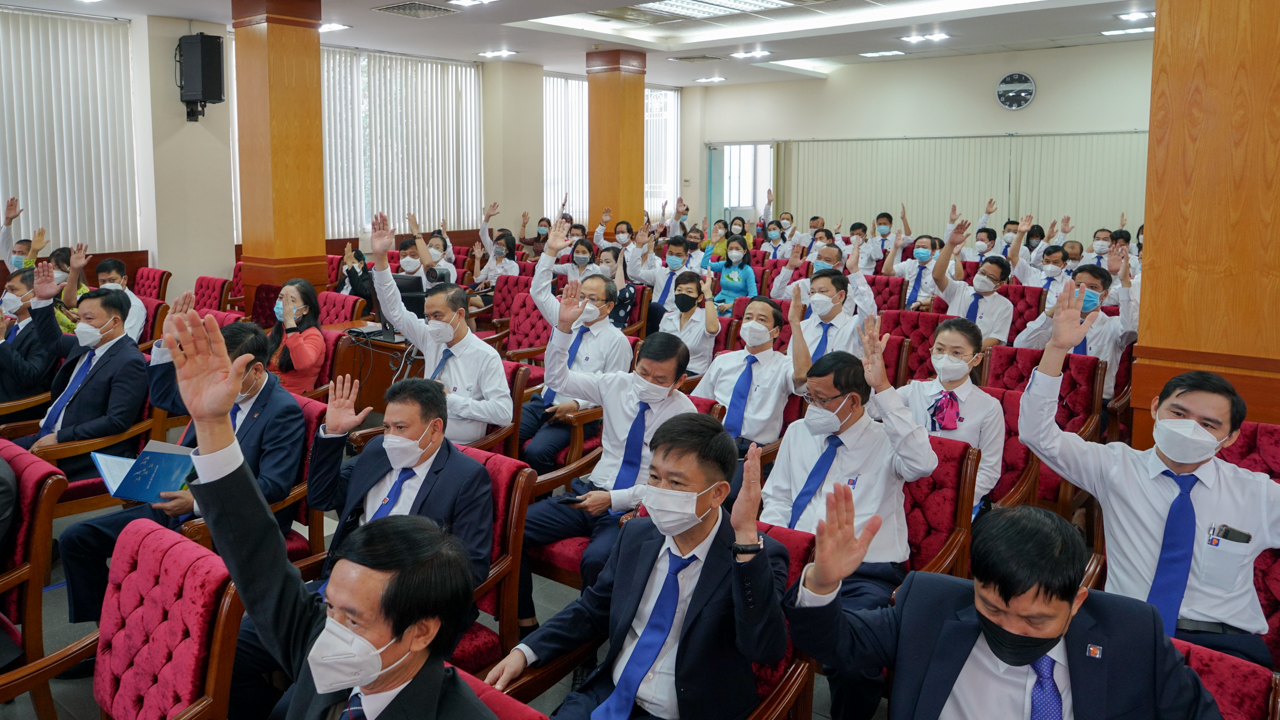 Voting to approve the Resolution of Employee Delegate Conference in 2022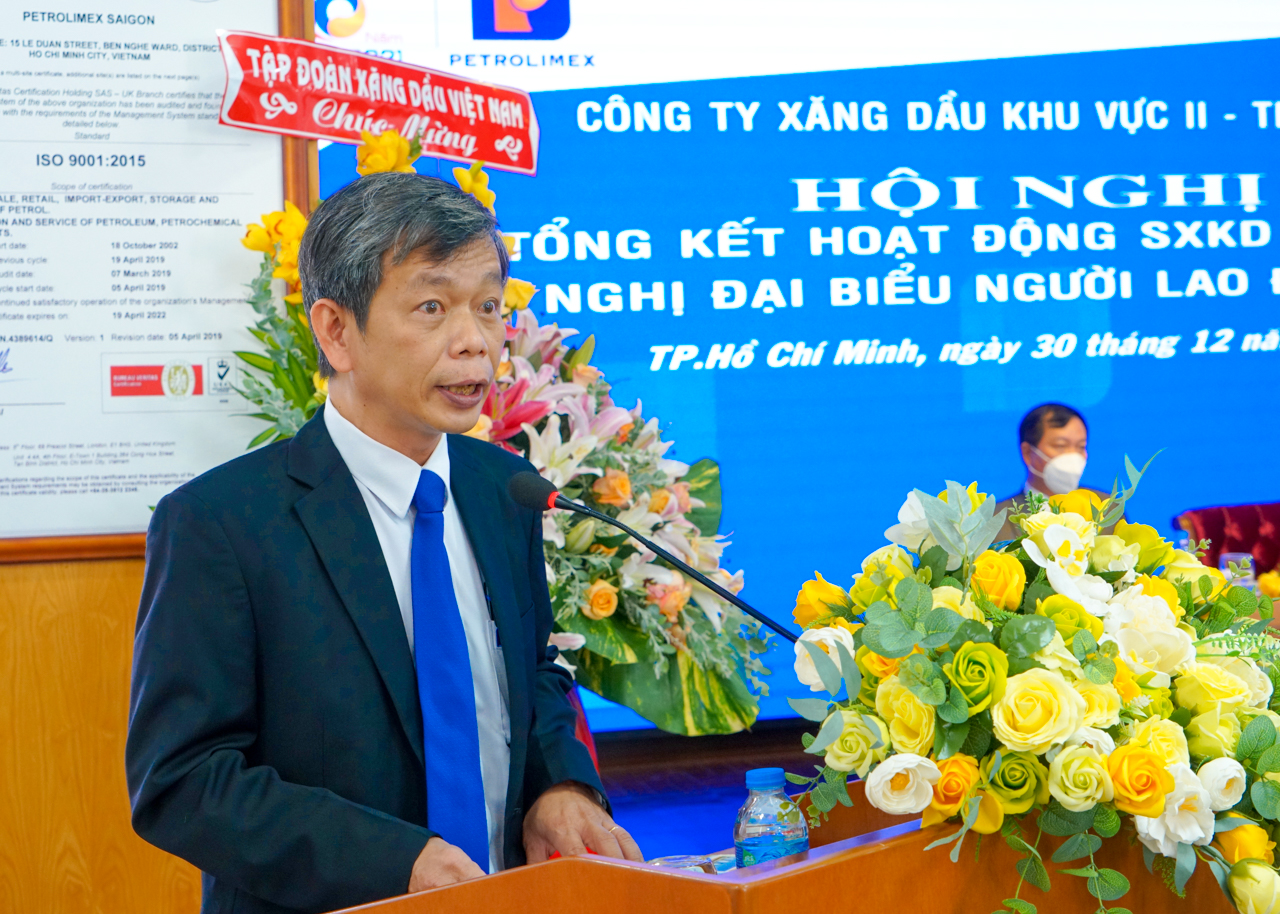 Director of Nha Be Oil Terminal Bui Cong Minh discussed Goals and solutions in 2022 to ensure safety and improve the efficiency of port warehouse operations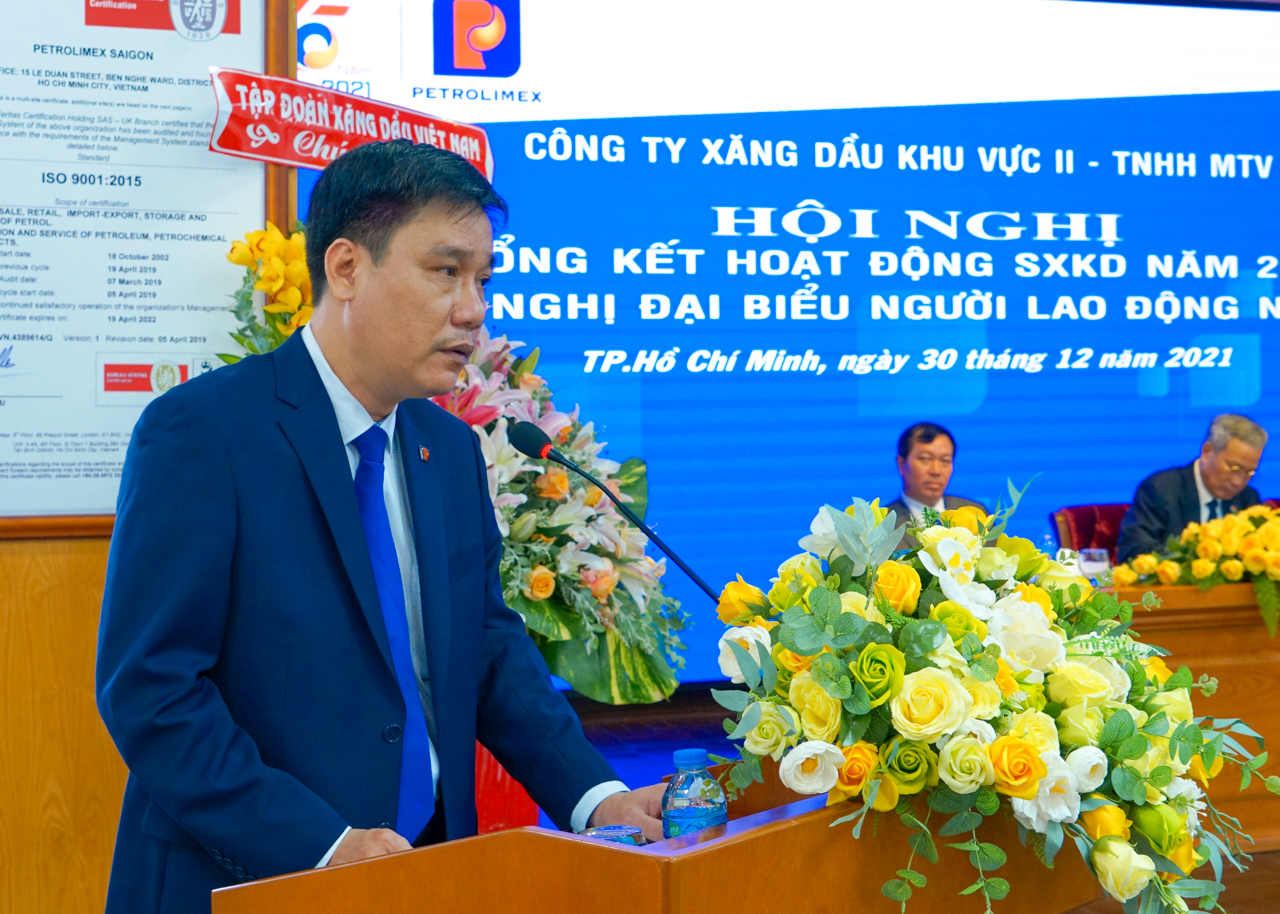 Director of Petroleum Retail Enterprise Nguyen Thanh Hai reported production and business results in 2021 and retail growth solution goals in 2022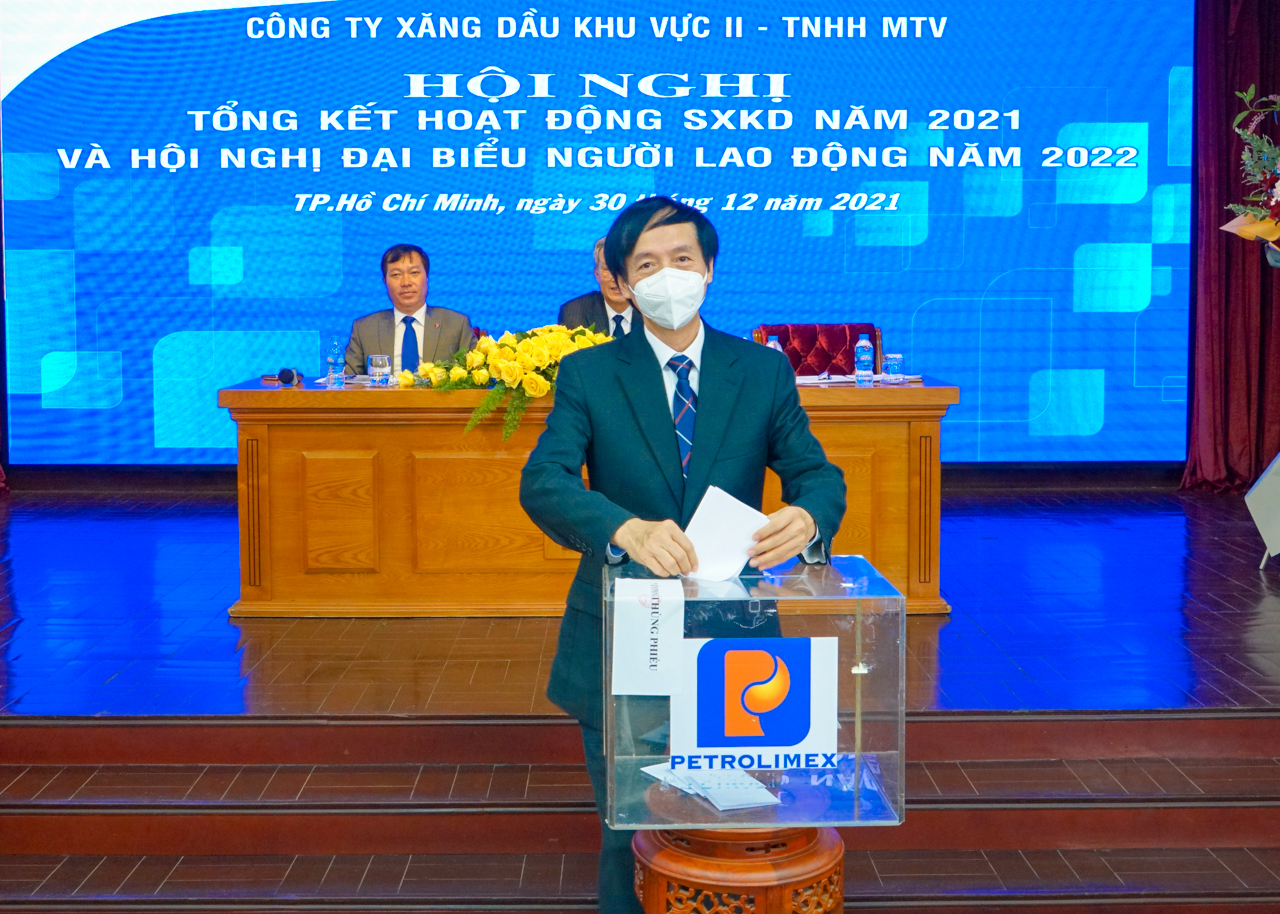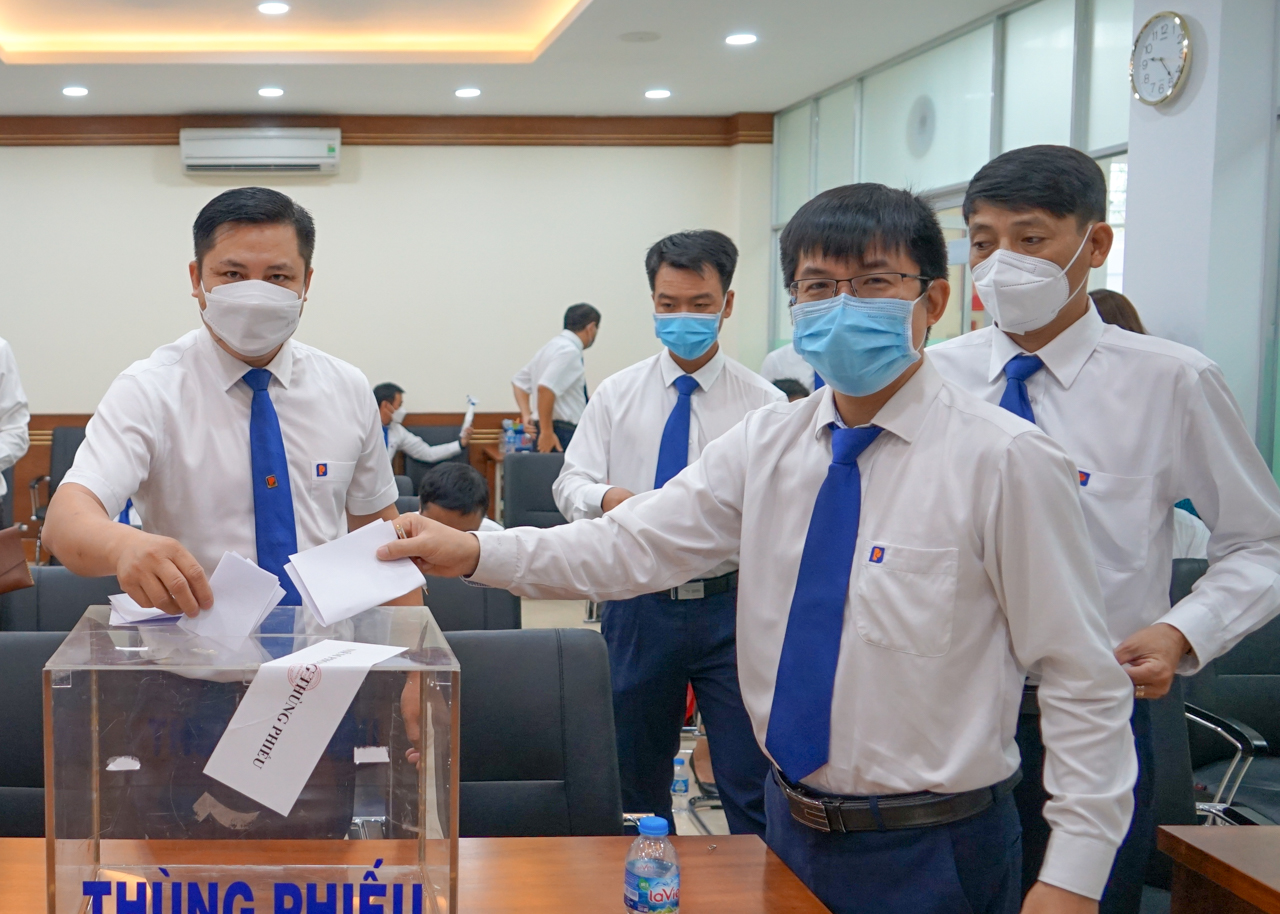 Delegates conducted election work at the Halls