Ho Chi Minh City, On 12.20.2015, Petroleum Retail Enterprise in collaboration with the Fire Protection Police Department District 1 have a fire drill, rescuing plans year 2015 at 02 Petroleum stations: Number 03 (102 Pham Hong Thai Street, Ben Thanh Ward, District 1; Number 32 (158 Hung Vuong Street, Ward 2, District 10).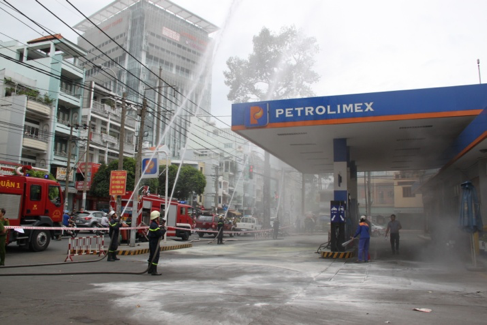 Overview the fire drill scene at Petroleum station number 32
Attending at the fire drill, there are local fire-fighting forces as employees of 02 Petroleum stations (number 03 and 32), convenience stores chain (Intelligent Car wash - Vietwash, Pharmacity - pharmacy, fast food chain - Dunkin Donut,...) and professional fire-fighting forces form Fire Protection Police Department District 1.
The situation was assumed: When employees are pumping petrol into customer vehicle, unexpected means of fire due to short circuit electrical system of the vehicle.Then the customers left their vehicle in panicking means the quantity of petrol spil out on the ground resulting fire spread to the orthers petrol pumps and the surrounding area causes 01 employee injured , 01 employee fainted due to smoke inhalation, toxic gases and 02 Convenience stores employees have hand and head injuries.
Local forces rapidly deploy fire fighting, rescuing plans...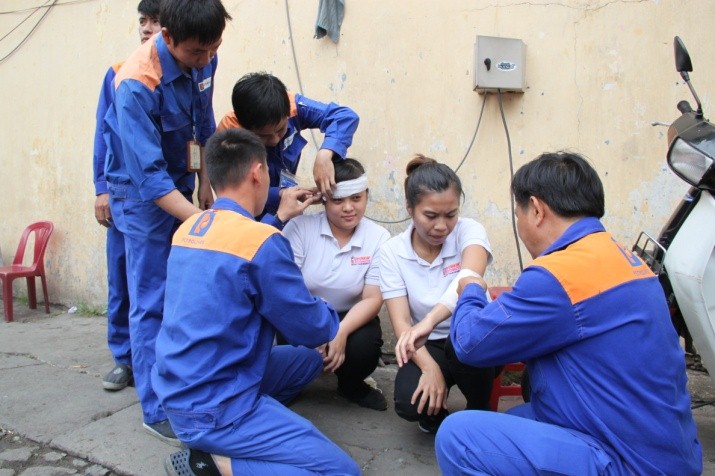 ... deploying first aid to the victims ...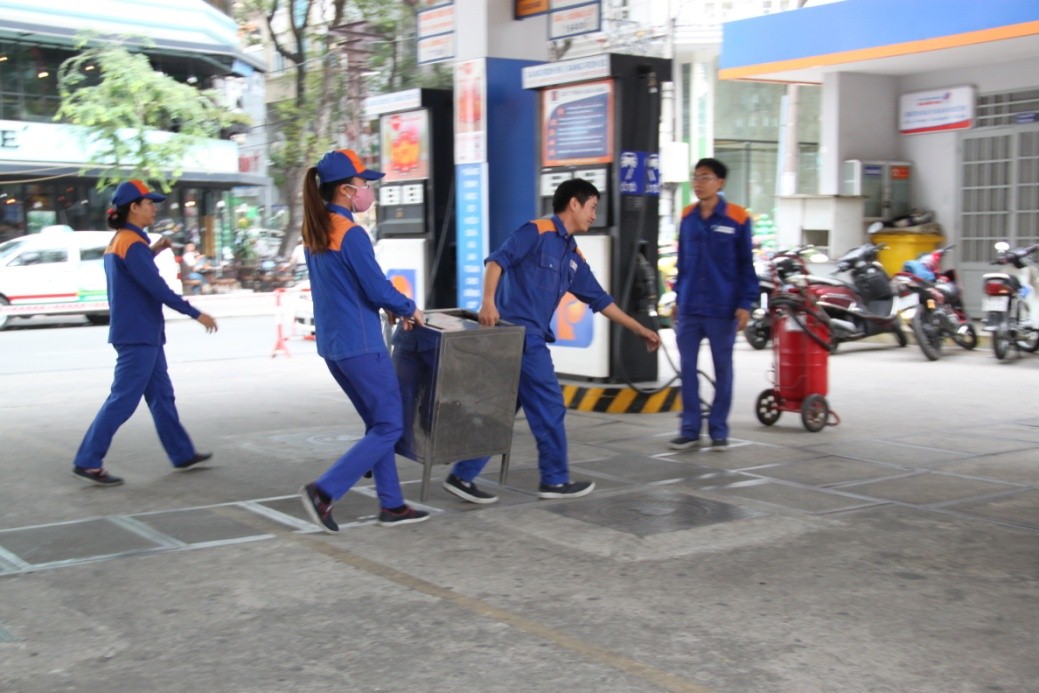 ... And move the assets to secure areas
As soon as people found out the fire, the employees immediately implement actions press emergency fire alarm and quickly inform a professional fighting force 114 and local force, facilities deployment fire fighting as planned.
Getting fire alarm, Fire Protection Police Department District 1 quickly dispatchs 01 commander vehicle, 02 fire trucks, 01 recuce cars and 20 officers to the scene.At the fire area, the firefighters quickly deploying squad sprinklers, rescue team quickly access, searching and getting stuck victims out to a safe place.After all, the fire was handled, extinguished completely saving people, assets for the Petroleum Station and surrounding area.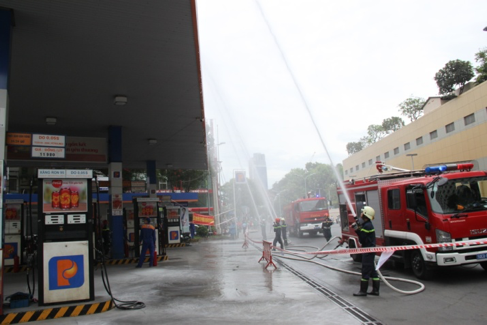 Professional fire-fighting force under the Fire Protection Police Department District 1 presents promtply
The fire drill, recsuing plans aims to increase fire safety awareness of local fire-fighting forces and convenience stores chain in the Petrpleum station;creating the initiative, improving coordination and consistency among the participating forces.Therefore,developing initiative good fire prevention and fire fighting effectiveness and promptly when problems occur, lowest limit damage to people and property caused by the fire.
Dissemination and publicizing the contents and assigning tasks to local fire fighting forces...
... And having after action reviews seminar