Nha Be River waterway is a bustling petroleum transportation place, its downstream zone has many aquacultures and Can Gio biosphere reserve. Therefore, every oil spill emergency occurs here leaves consequences such as environmental pollution and serious economic damages.
Recognizing the importance of Environmental Protection 4 kilometers length river through the territory of Nha Be Oil Terminal. Oil Spill prevention and Response always receive the direct and deep concern from Vietnam Petroleum Group (Petrolimex). Not only investing in equipment for oil spill response such as tugs, barges, booms, oil spill absorbent equipments by the lastest, most professional modern, Nha Be Oil Terminal also focus on staffs training with the motto "local forces, prevention as key and always be ready to rescue in all circumstances". To achieve those objectives above, the Oil Spills Response Drill should be carried out regularly and effectively.
Since 2006, Nha Be Oil Terminal has strengthened the Tugs and Oil Spill Response team total 20 members and maintained the force so far. All members of the team have experiences in maritime and undergo training on oil spill response within the country and abroad to develop into a semi-professional force. The prediotic deployment of drill plans not only help improving skills but also remind people to be always alert of the incident occurred, thus the local forces with the willingness can still overcome and intercepted before it becomes a disaster.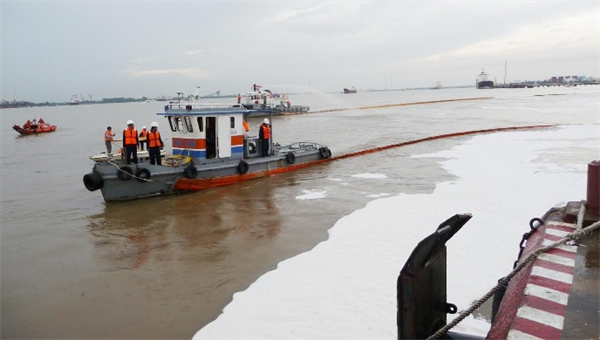 Tugs team and Oil Spill Response force doing drill on downstream Nha Be river combining with firefighting
Annually, Nha Be Oil Terminal holds 04 regular drilling sessions with hypothetical situations such as oil spill caused by an oil pipe imported technologies on the wharf, oil spills due to perforation cargo on board, petroleum spills are accompanied by a high risk of explosion or spill incidents by waterway drift to the Terminal zone... All situations are planed as scenario of the time, place, people and material in specific ways. The implementations will be carried out from the stage of overcoming specific causes, to prevent oil spill absorbent collection, handling oil spill recovery, cleaning up polluted areas and aidding the victims. In addition to the oil spill response as main duty, all the staffs involved such as security forces, fire protection, dispatching goods, aid, environmental sanitation are mobilized to participate and willing to took part in the force.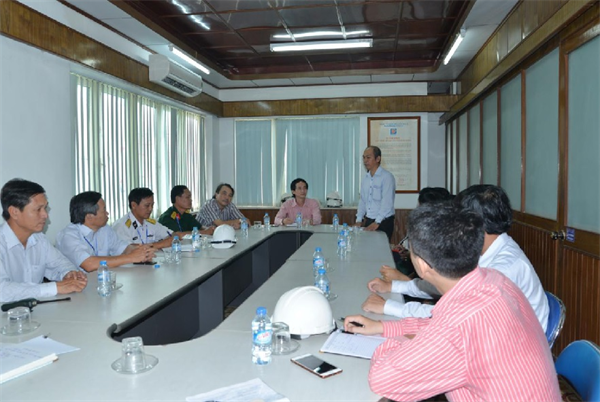 The Steering Committee together with the Command of the Oil Spill Response and guests having briefing meeting after drilling at the scene
Besides, the Terminal also cooperated with Dai Minh – A professional oil spill response unit of Ho Chi Minh City. We co-ordinated joint exercises and learn from each other experiences. From 2007 to the present, Nha Be Oil Terminal deployed 40 drills on Nha Be river in total, in which there are 04 main drills with large sessions had participation and guidance of the Vietnam Petroleum Group, the Environmental Department's units of the City, Fire Protection, Port, Waterway... All the drills were recorded as video documentory for the briefing meeting afterward of steering committee and implementation teams learn from experiences.
"Environmental disasters won't happened if oil spills response activities are well organized, prevented and prepared. If each individual has the same sense of environmental protection, any damage will be minimized "
Petrolimex Saigon Deputy Director, the Chief of Oil Spill Response
Mr. Nguyen Danh Hung identified.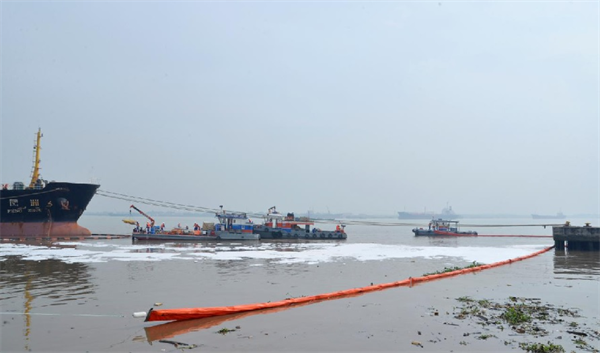 The situation on the River Oil Spill Response are diverse place, so rescue team must adjust to suit the hydrological conditions, weather
Nha Be River's hydrology is quite complex: ebb four times a day, strong currents swirling in toward the shore, because of transportation creates waves back and forth repeatedly struggling the drills organization. In fact, if oil spills occur is not stop as soon as possible, it will drift on both upstream and downstream. Before deploying the drill, the forces are disseminated, however the actual plans could have many changes while implement, so that the commanders have to be flexible in co-ordinating the forces. On the other hand, the forces also gained self experience to get firmer skill through drills.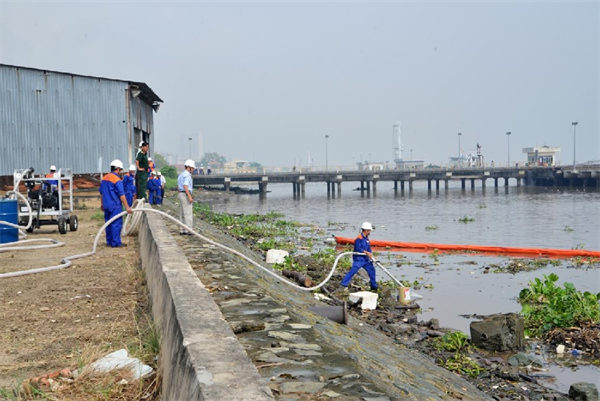 Protecting, cleaning shorelines, rock slits sanitation, oiled garbage collection are parts of oil spill response drill plans
Since the implementation of rescue plans for oil spills, by frequently exercises and always be ready of the forces, Nha Be Oil Terminal hasn't let any oil spill happen then affected the Nha Be river environment. There are few issues has been completely fixed and overcome before hand and then leave no consequence of environmental pollution.
Plan to prevent and respond to oil spill at Nha Be Oil Terminal was approved by Ho Chi Minh City Department of Environmental Resources in November 2006. Until now, total investment in the development of the Terminal's facilities are over 2000 meters techniques booms, 5 tugs, canoes, oil barges, absorbence equipments, handling oil spill and semiprofessional forces including 20 members to develop duty services for prevention and preparedness for oil spill. Along with the implementation of the oil spill rescue services for all means of ships and barges on the import of goods at the warehouses, the Terminal also associated with professional units on Nha Be river when requested support or commanded by the City.